MECHANICAL BULL CUSTOMER TESTIMONIALS

Silverado Ranch's mechanical bull was the life of the neighborhood block party! From the youngest 4-
year-old rider to oldest 78-year-old, everyone had such a great time. A big thank you to the wonderfully fun and entertaining bull operator Arnold Sanchez and son, for making our bull rides safe and such fun, complete with wonderful country music playing on the outdoor sound system. So much laughter, wonderful photos, videos and great memories were made that we all will treasure. I would recommend Silverado Ranch's mechanical bull rental to anyone who wants to make your event a really special one to remember.

Five stars all the way!!

July 3rd ,2021


M.J. Clason of Keller, TX

Our church used Western Prop Rentals for a mechanical bull to ride during our Big Texas BBQ. We had no prior experience with this company but were 110% pleased with their service and equipment. The equipment was in great shape and the bull operators Josh and Ricardo were patient and kind. They took time to help each rider get comfortable and enjoy the best ride possible. They even graciously entered the bullring to assist the small children and some of our children with special needs. We were so pleased with this company that we have already booked them again for next year's event.

Rachel Pakebusch, Murphy Road Baptist Church

Hi Arnold,We like Silverado Ranch!!!
Arnold, we enjoy doing business with you. For the past two years, you have been our provider for the mechanical bull rental for our Friday evening event at the Southwest Veterinary Symposium held at the Ashton Depot.
We just want you to know that your service is excellent and you make it easy for us and your guys are so nice and courteous and do a great job and that is why we want to rent our mechanical bull from Silverado Ranch once again and want the same two guys.
Bitsy Burns, CMP Operations, Director Southwest Veterinary Symposium (SWVS)

What an incredible time we had with ' BOSS ' and the Silverado Ranch crew!
Arnold was easy to work with in getting everything scheduled and booked, and Josh and Ricardo were wonderful with our clients throughout our entire three-day event. They were very professional and friendly, and went above and beyond to make sure everyone had a wonderful time and felt safe and special!
What a huge hit!
Thank you for an amazing and memorable show! We highly recommend Silverado Ranch!
Molly Haberberger , Marketing Manager at Sonsio

I would like to take this opportunity to thank Silverado Ranch Mechanical Bulls Western Event Entertainment for delivering a great service, and standing behind it 100%.
Our corporation hosted a Mechanical Bull at our booth during our largest conference of the year in April of 2014. Not only did our attendees love participating, but the picture-takeaway allowed them to walk away with a lovely souvenir from our organization and the event, it definitely was the hit of the conference.
Josh was interactive and engaging , and personalized each experience for each guest that approached our booth. While this bull can buck fairly hard for those up for a challenge, we experienced the safest of conditions.
Thank you again to Silverado Ranch Mechanical Bulls for a great experience and Western Event Entertainment!
Lucy Graham , Director of Marketing at Carousel Industries


Do you want to reserve or confirm BOSS?
Call us to confirm that your date and time slot is available,
then click below to fill out the form and return.
Click for Mechanical Bull Rental Form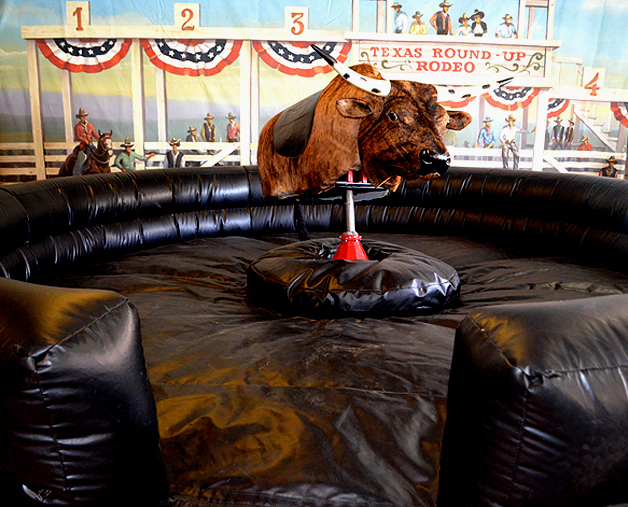 MAT MEASUREMENTS - 15' X 15' X 45"
REQUIRES 20' X 20' LEVEL AREA FOR PROPER PLACEMENT
WITH (1) 220V/ 30 AMP AND (1) 110V / 20 AMP POWER
OUTLETS WITHIN 65' OF THE MECHANICAL BULL SETUP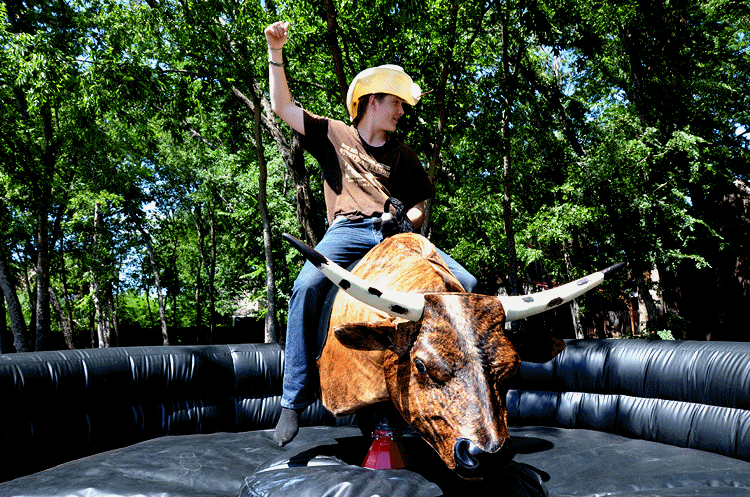 Mechanical Bull Rentals & Sales. If you have a corporate, business, trade show, festival , promotion, birthday party, western party or any event that could
use a taste of real Texas entertainment

Silverado Ranch is your (1) stop for mechanical bull rentals.
We offer rodeo back drops to feature and enhance
your mechanical bull experience.

We can also provide a Rodeo tower, bleachers, rodeo clown and professional bull riders to demonstrate their mechanical bull riding skills for your guests!

Our special event planners can organize a complete Mechanical Bull Rodeo competition that includes everything from the number on the back of shirts to the championship trophy!

Call us today to make your next western event, team building or party an experience of a lifetime
Need a mechanical bull of your own? Ask about our mechanical bull sales.

Dallas, Ft. Worth, Irving, San Antonio, Austin, Houston, Texas and anywhere else
in the USA or Planet!
OPERATOR - JOSH SANCHEZ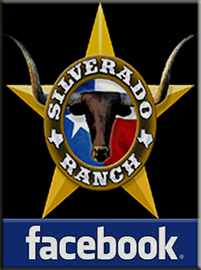 Visit Us on Facebook!
Let us bring a Mechanical Bull Rodeo to your Event

Silverado Ranch can make your special event one to
remember for years to come!


Call Us Today!
214-686-4872
Metro
972-399-4000

Call Arnold Sanchez @ 214-686-4872
Email: arnold@silveradoranch.com
for details and pricing
© Copyright : All Rights Reserved Silverado Ranch 2021