Western Facilities for All Occasions
From Corporate America to Little Johnny's Birthday!

Ranch Style Parties
- Cowboy Parties -
Old West Parties
- Texas Style Parties

Ranch Special Event Facilty
- Fort Worth Stockyard Parties



Call us anytime 24/7 @
214-686-4872


Toll-Free

1-855-282-5968




1-855-BUCKYOU
WE ARE THE REAL DEAL!
Storybook Ranch
Silverado Ranch
has facilities for groups from 100 to 20,000 for you to choose from.
Our special event planners will help you to select a facility to suit
the needs and budget of your special event.
Each facility can be recreated to give your guests an old western town celebration atmosphere, featuring colorful and detailed store fronts, ranch entry, decorated cedar split rail fencing,
period western signage, elevated stage with themed backdrop, round guest tables
w/custom linen table cloths & white wooden chairs surrounded by authentic props
such as: stagecoaches,wagons,wagon wheels,wooden Indians, whiskey barrels,
steer skulls, saddles, and even a live longhorn steer if you like!
If you're the stay at home type,
Silverado Ranch
can create this Old West atmosphere at your home, business or ranch wherever they may be! If you are looking
for a location for a chidren's western, ranch
or barn party, we have it all!
We host those unforgetable childen's western parties that they will always remember! The children's party room is decorated with a western flare in a western shoppe facade setting. There is plenty of room for all the inflatable bonce houses and games you need!
There is a petting barn as you walk into the party area and a pony ring convenietly
located next to the kid's western party room.
We can provide a children's menu and the party room has a soft drink beverage fountain machine. We offer a varity of western children's entertainment featuring our
Cowboy & Magic Indian children's entertainers that performs many different
tricks and enter act magic and tricks with the
Kiddos but it's fun for all, Ya'll!
Call us and schedule a appointment to tour and visit this one of a kind facility!
Texas Music Venue: "The Silverado Ranch Armadillo Concert Series"
Thanks to all the music fans that attended our concerts and came out to see the top
Texas Music Stars perform on our main 60' x 25' stage (with 2 gaint armadillos climbing
up the back of stage) every Friday night that started on July 21, 2006.
The entertainment / music venue was designed & completley decorated as an indoor western town and a unique variety of 1880's style western business detailed store facades (that were available for outside sponsorships) and give you a feeling of being in an outside old town square. The Texas music venue featured a 5700 ft. wooden dance floor, state of the art sound system, a second 40 ft. x 25ft. auxiliary stage with an old church facade center stage as background w/ wording that reads
"Texas Music is a Religious Experience"
overhead also used for western weddings.
The venue also featured Arnold's Texas Bar-B-Q served from an East Texas old fashion style BBQ shed that displayed 3 BBQ pits in a red brick wall that served as background & the Longhorn Saloon Bar, a 50ft. doubled sided bar that has costumed bar keeps to add to the experience. Both stages meet and surpass all electrical requirements including 220 circuits, elevated center stage sound & lighting control booth, 3 camera platforms.
The next venue will seat 2500 guests at one time for concerts, and will have a superior state of the art sound and lighting system compared to the Irving Location.
It's not a real Texas Special Event without the Mechanical Bull!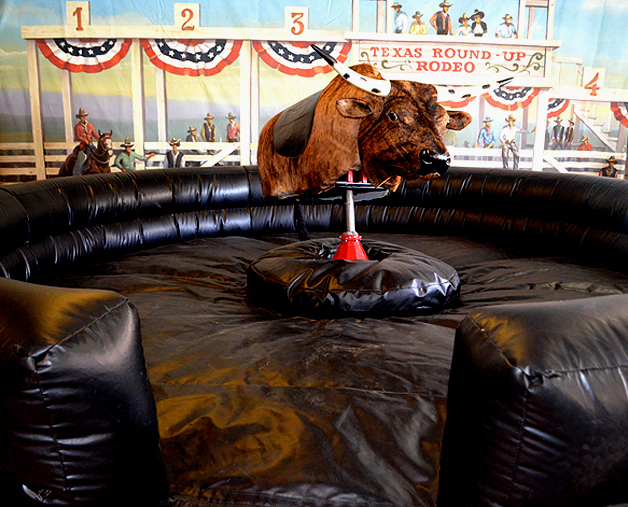 MAT MEASUREMENTS- 15' X 15' X 45"
REQUIRES 20' X 20' LEVEL AREA FOR PROPER PLACEMENT
WITH (1) 220V/ 30 AMP AND (1) 110V / 20 AMP POWER
OUTLETS WITHIN 65' OF THE MECHANICAL BULL SETUP
*Requires a 220 volt power connection

Click Button for more Mechanical Rental Info



Silverado Ranch
can make your special event one to
remember for years to come!
Call Us Today!

24/7 @

214-686-4872
Toll-Free

1-855-282-5968




1-855-BUCKYOU
Copyright : All Rights Reserved Silverado Ranch 2023