Arnold, 02-20-2018
I wanted to let you know how appreciative we are of your services.   The props we rented were terrific.  We had so many compliments.  Big Tex was the hit of the event.  People could not stop taking pictures.  The Saloon doors really helped us set the mood for the event. 
Your crew was fast, efficient and kind.  I cannot say enough good things about how professional they were.
 We gave out your name and number to several guests and will continue to do the same.  I hope you get some extra business.
 Thanks again!
 Kim Dalfonso
Special Projects Coordinator / Collin College Foundation

12-19-2017
I had the pleasure of working with Arnold Sanchez and his team at Silverado Ranch to put on a "Western Theme" Corporate Holiday party.
From our very first email exchange and then phone calls to discuss my "vision", the entire experience has been both impressive and a pleasure.
Arnold's tremendous expertise built over many years, his relentless passion, grace and enthusiasm for wanting to make every detail just perfect, his work ethic and drive resulted in a truly wonderful and successful Holiday gathering well over 100 guests!
Their props, wanted poster photo wardrobe and artistic backdrops were impeccable, authentic and in tip top condition!
Thoughout the entire lifecycle of pulling this event together and making it an unforgettable experience
(and that's another key word - it's an "experience" not just an event!!), the team remained 100% engaged and truly "interested" in offering and sharing their best recommendations for each and every detail and because of their love of what they do, the realization of the "vision" we had in mind came to life and the feedback from our entire group reinforces just how great it all was!!
Pulling an event together at fairly short notice for this number of guest requires a lot of project management and I depended on the team to stick to their commitments - which they did 100%:
This is a key reason I wanted to provide my feedback - they never missed a beat!
I would also like to give my thanks to all the performers - Dave Alexander and his Band (amazing musicians), the Saloon girls, ( they actually managed to motivate and teach us how to line dance!)
the strolling gambler (brilliant), Wild Bill showing our guests how to quick draw (awesome!)
and Josh, Lance & Marie who worked non-stop to create the "MOST WANTED" poster photos (terrific
mementos!) - thank you all for making such a fun night!!!
It was an absolute joy collaborating with the Silverado Ranch team from start to finish and I highly recommend Silverado Ranch !
Thank you Arnold!
Karen George / Director of Account Management
Abacus Technical Services


Hi Arnold 03-17-2016
 We like Silverado Ranch!!!
Arnold, we enjoy doing business with you.
For the past two years, you have been our provider for the mechanical bull rental for our Friday evening event at the Southwest Veterinary Symposium held at the Ashton Depot.
We just want you to know that your service is excellent and you make it easy for us and  your guys are so nice and courteous and do a great job and that is why we want to rent our mechanical bull from Silverado Ranch once again and want the same two guys.
Bitsy Burns, CMP
Operations Director
Southwest Veterinary Symposium (SWVS)

Hello Arnold, 10-21-2015
First, I want to thank you and your Silverado Ranch team for their set-up, supervision, tear-down, and provision of the mechanical bull, trick roper, roller roper, and quick draw for our October 16th, Minute Maid Park event. Despite the scaffolding accident and the minor electrical hiccup we were able to experience a successful event, due in part to the activities you provided.  We appreciate Silverado Ranch's partnership for our event.
We hosted a 3,500 event in Houston, TX and we were looking to integrate a western theme. We researched numerous companies but many fell short due to their limited selection of activities. We were delighted when we found Silverado Ranch, a company that offered a variety of western themed activities, a one stop shop! Silverado Ranch worked with us to select activities that would engage our attendees. Our attendees enjoyed the laughter, fun, and experience of a mechanical bull, trick roper, quick draw, and roller roper. Without the activities provided by Silverado Ranch our event would not have been such a huge success.
Thank you,
Samantha Locke
Event Coordinator

Good job! Look forward to next time. 10-21-2015

 Kelly Pound

DIRECTOR – EXHIBITS • STATE FAIR OF TEXAS

Arnold, 10-08-2015
By now I am sure Josh has filled you in on the circumstances we were presented with during the installation. Josh and the rest of your team did a great job under some very difficult circumstances. We are very grateful for their help!
The event was a huge success – and we have heard from multiple guests and employees that we had the best event of the night! We were extremely pleased with the way the props and furniture turned out, and it really added a special touch to our event.
Thank you for all your assistance in making this event so successful. It was a pleasure working with you and your team. If you ever need a client testimonial, I would be glad to offer one.
Best Regards,
Al
Marketing Specialist - Trade Shows & Events

Al Colquitt
Marketing Specialist - Trade Shows & Events
Arnold, 09-28-2015
We really appreciated the efforts of Silverado Ranch in helping to make our Western Days
Event successful.  By all accounts, this was the biggest and best Western Days Festival that
anyone can remember, and Silverado Ranch played a significant role in contributing to that success!
The addition of western attractions and themed decor beginning in 2013 into present has revived
the Western heritage atmosphere of  the event that had been lacking.
Silverado Ranch was able to put the cherry on the sundae with the western décor and the detailed accent touches that were added to help set off our western attractions.
The Silverado Ranch crew went over and above the items that were requested by putting a special Texas touch on each of façades and vignettes that helped drive home the Western theme.
Thanks so much for all your efforts and the efforts of your crew,
Daren Watkins
Special Events Coordinator
City of Lewisville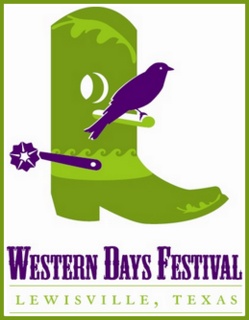 Arnold – I wanted to thank you very much for the awesome time me and my guests had at our Western Theme Night event at the Westin last week! Everyone thought it was so much fun and a unique teambuilding experience.   I was very pleased to see not only the wide variety and ample supply of western gear for the Wanted Poster, but also the high quality of the clothing and props.  Even though we didn't have a ton of folks dress up or take pictures, everyone had fun watching those that did.  Additionally, your staff was so professional and very friendly.  They knew what looked best, helping us dress and pose for the best photo effect.  I had many compliments on how great the teambuilding event was and you definitely helped contribute to that success.  Thank you for making me look like a party planning rock star!   
 Occasionally, I hold meetings in the Dallas area and if I'm in need of some teambuilding entertainment, I will be sure to call upon you again. Wonderful job to you and your staff!
 Many thanks,  
Jennifer Matyjasik Event Planner Global Sales & Marketing

Hello Trey,
I just want to say THANK YOU, on behalf of the Entertainment Solutions team and myself. We can't begin to tell you how much we appreciate you for providing us with such amazing props/entertainers for our event. We've had nothing but positive feedback from runners and our client about the props/entertainers placed along the course.
Each experience site was a huge success and wouldn't have been possible without Silverado Ranch!
Please extend our thanks to Ricardo, Don, Gary and Burt – Ricardo & Don did a wonderful job at the Texas Roadhouse Experience on getting the props set-up the morning of the event. If we had any last minute adjustments they were ready to make it happen!
Gary was a wonderful Emcee and added the finishing touch to our Texas Oversized Prop Experience.
Burt did a wonderful job with his trick roping demonstrations. Please thank him for sticking through the 3 hours without any breaks. His performance was a BIG hit and lots of runners took photos with him.
Once again thanks for your patience and dealing with all the last minute changes for this event. It was such a pleasure working with you and your team!
Best Regards,
Angelica

I wanted to drop you a note to tell you that we had the best display at XChange in Dallas! Not only were the props of amazing quality but your team was exceptional! They were so helpful with not only the propping but the overall room. I've never worked with a better vendor for set up!

Thank you so much for assisting us with this event!

Your displays made the demo room that much more fun!
Our customers and our Samsung reps loved it!
Project Manager




Hello Arnold:
Just wanted to say a BIG THANK YOU for partnering with us in the Western Event at our Pepsi "HR Meeting" in Dallas. Your professionalism and politeness was so appreciated and the time your team took too engage us with the DJ spinning great music was very well received. Everyone had a great time and enjoyed the décor and all of the fun event stations.
Thanks again!
Debra

Hi Arnold,
Your team was great as usual. They all – especially Travis and Stephanie – handled it very well and kept me up to date.
Everything was set up on time and we received so many compliments on the booth. I did manage to hand out the business cards for people interested in your props. You may be getting a few phone calls.
Bubba - The Rattler was so much fun to have in the booth. You were right once again. People thought it was very funny. A few people came back just to check him out again.
A few times I felt bad when they screamed because I think they might have had a snake-phobia or something. I would just hand them a couple of cookies then they were fine after that. Once I had to chase a woman down the aisle because she ran away – she was so scared.
I rewarded her with a cookie, of course.
Thank you again for making our tradeshow season so successful this year. You and your team made a big difference for us this year and we like how we stood out from everyone else. Next week we will be planning for 2015 and will be discussing how we will dress up our booth space for next year. I will keep you posted on our plans.
Best regards,
Michelle McClellan
Marketing Operations Specialist

Thank you for a wonderful event last week!
I appreciate all the hardwork and your communication from the initial planning process , to the actual night of the event. We thought we could throw you a curve ball with a unique theme , but you met our Ancient Grains theme and embraced it with passion. I'm still taken by the talent that went into the Diego Rivera mural. Your team is outstanding.
Thank you for your patience with the great flood that night. I appreciate your understanding.
I look forward to the possibilty of working with you next year.
Best , Reyna Bonee
Corporate Events